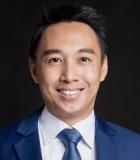 Director (AI and Technology)
Profile / Bio:
Hector Lin possesses over 10 years of management consulting and training experience. He is a Director at JobKred, a Singapore company that uses Artificial Intelligence and Data Science to help individuals, enterprises, schools and governments stay relevant in today's VUCA world by providing access to real-time labor market intelligence and implementing cloud-based systems that empower transformation journeys.
JobKred powers the intelligence behind Singapore's national job portal, www.MyCareersFuture.sg. Its innovative solutions and technology have catalyzed workforce transformation in major universities, enterprises, trade associations, and governmental agencies. The company also actively shares its perspectives, data insights and case studies in local and international forums organized by partners such as the World Bank and Asian Development Bank.
 Concurrently, Hector serves as Singapore's Country Director on the board of Asia Pacific Career Development Association (APCDA). He is also the Secretary-General of the People & Career Development Association (PCDA) of Singapore.
Hector is previously a Practicing Management Consultant (PMC) certified by Singapore Business Advisors & Consultants Council (SBACC). He is currently certified by Institute of Management Consultants (Singapore) (IMCS) as a Registered Management Consultant (RMC). He is certified in Singapore's WSQ Advanced Certificate in Career Development Facilitation (ACCDF) / Global Career Development Facilitator-Singapore (GCDF-SG) and Singapore's WSQ Advanced Certificate in Training and Assessment (ACTA).
Hector possesses an Executive Master of Science in Marketing from Baruch College, City University of New York. He also graduated with a Double Masters in Business Administration and Applied Project Management from the University of Adelaide, Australia.