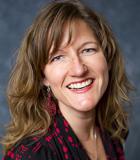 Vice President, Capacity Building
Profile / Bio:
Ms. Heather Canon leads ELEVATE's Capacity Building team from the company's Hong Kong headquarters. In this role, Heather directs four business lines: Worker Engagement, Factory Services, eLearning and MCSR (Program Support) services.
Earlier, Ms. Canon co-founded and led the social enterprise that developed the award-winning Laborlink mobile platform. Leveraging new technologies, Laborlink innovates to meet the diverse needs of workers by providing anonymous and unfiltered worker insights to companies and their suppliers. In 2017, ELEVATE acquired Laborlink and integrated this technology with assessments in a scalable and cost-effective way.
Previously, Ms. Canon launched the Fair Trade Certified™ Apparel & Linens program in the US, a new way to help consumers make informed purchases and support ethical business. She brings together industry experience with Columbia Sportswear Company and field experience working with small-scale farmers in West Africa.
Ms. Canon has a Master's degree in Economic Development from Harvard Kennedy School and is a Purpose Economy 100 (PE 100) global changemaker.