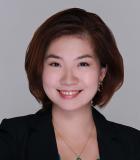 , ICC Digital Standards Initiative
Profile / Bio:
In 2021, Hannah Nguyen joined the Digital Standards Initiative with special focus on engaging industry participants, standards developing organizations, solution providers, governments and intergovernmental organizations to coordinate standardization efforts across the ecosystem. 
In her previous role at one of the world's largest commodity logistics service provider, she led business development efforts for C. Steinweg Group in Asia Pacific, resulting in key expansion projects in Malaysia, Thailand and Vietnam. Earlier in her career, Hannah provided market intelligence and advisory work to corporates interested in actionable advice on how to compete and grow in Asia. She also spent 2 years at Enterprise Singapore, working closely with global traders, brokers, exchanges, financial institutions and other intermediaries to drive the growth of commodities and derivatives sector in Singapore.