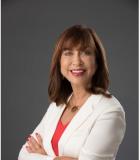 Profile / Bio:
Ms. Hanaa Singer-Hamdy is the United Nations Resident Coordinator in Sri Lanka and leads the UN Country Team of 22 Resident and Non-Resident UN Agencies. She is the representative of the UN Secretary-General in Sri Lanka.
Ms. Singer-Hamdy has over three decades of experience with the UN, having worked across development and humanitarian contexts in various senior management and strategic leadership roles.
Prior to Sri Lanka, she held several senior leadership positions in UNICEF across the world, including Associate Regional Director UNICEF Geneva and Country Representative for UNICEF in Syria, Nepal, Kazakhstan, and Azerbaijan. She has also led humanitarian programs in Burundi and Haiti and coordinated UNICEF cross-border humanitarian operations to Afghanistan from Central Asia and Northern Iraq from Turkey. She also provided technical support to UNICEF humanitarian programs in the North Caucasus, the Balkans, and Central Asia.
A national of Egypt, Ms. Singer-Hamdy holds a Master's degree in Political Sociology and a Bachelor's degree in Political Science from the American University in Cairo, Egypt.