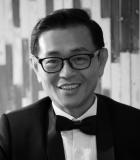 , eTouch Innovation Co., Ltd.
Profile / Bio:
Gordon Yu is the CEO of Etouch Innovation Co. Ltd., Managing Director & Chief Strategy Officer of EVP, Managing Director of SincerePlus, and Managing Director of Taiwan Hsinchu Green Industry Association, all based in Taipei, China. A holder of more than 150 patents, he has been awarded Taipei, China 9th Innovative Research Award by Minister of Economic Affairs, 5th Rising Star Award by the Prime Minister, and 11th National Award of Outstanding SME by the President of Taiwan.
Mr. Yu was appointed as 2018 Mission Leader of the ASIAN Environmental Protection & Sustainability Mission by TAITRA. He is a member of the Taiwan Cradle-to-Cradle Alliance.