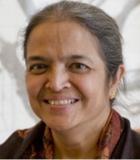 Distinguished Professor and Director
, Public Health Foundation of India
Profile / Bio:
Gita Sen has over 40 years of experience working nationally and internationally on gender equality and women's human rights. Her work has ranged widely spanning poverty, population policies, human development, labour markets, and women's health. A citizen of India, she holds a PhD in Economics from Stanford University. She is currently Distinguished Professor and Director of the Centre on Equity and Social Determinants of Health at the Public Health Foundation of India. She was for many years a professor of public policy at the Indian Institute of Management, Bangalore, and Adjunct Professor of Global Health and Population at the Harvard TH Chan School of Public Health.
Known for her combination of analysis, strategic advocacy and activism, she is one of the members of the women's rights movement that gave impetus to the paradigm changes of the ICPD Programme of Action and the Beijing Platform for Action. She is a founder and currently General Co-coordinator of the Southern feminist network, DAWN (Development Alternatives with Women for a New Era; www.dawnnet.org).
Current international positions include: (i) Independent Accountability Panel for the UN Secretary General's strategy on Every Woman, Every Child, Every Adolescent; (ii) Co-Chair of the Gender and Rights Advisory Panel of WHO's Dept of Reproductive Health Research; (iii) Lancet Commission on "A Synergistic Approach to Universal Health Coverage, Health Security and Health Promotion". Some previous positions include: (i) High-Level Task Force for ICPD Beyond 2014; (ii) Lancet Commission on Women and Health; (iii) WHO's Advisory Committee on Health Research; (iv) Chair of the World Bank's External Gender Consultative Group; (v) Governing Board of the UN Research Institute on Social Development; (vi) Governing Council of the UN University.
In India she has been a member of the Governing Board of the National Health Systems Resource Centre, the Mission Steering Group for the National Rural Health Mission, and the High-Level Expert Group on Universal Health Care set up by India's Planning Commission.
She is a widely published author and editor of journal articles and books. She has received the Volvo Environment Prize for her work on women, population and development, the Dan David Prize for her work on gender equality, and Honorary Doctorates from the University of East Anglia, the Karolinska Institute (Stockholm), the Open University (UK), the University of Sussex, and the University of Edinburgh.