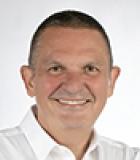 Advisor and Former Head of Agribusiness
, European Bank for Reconstruction and Development
Profile / Bio:
Mr Mettetal is the Chairman of the Investment Committee of Diligent Capital Partners, a Private Equity Fund also based in Ukraine. He is also a member of the supervisory board of Nibulon and of Astarta, two leading agribusiness companies in Ukraine. In addition he is a senior agribusiness advisor the Asian Development Banks and he has been advising the African Development Bank and  as well as for the United Nations Food and Agriculture Organisation (FAO).
Mr Mettetal was the Director of Agribusiness and of Property & Tourism sectors at the European Bank for Reconstruction and Development (EBRD) until June 2017. He was also interim Managing Director for the corporate sector. He has over 30 years of international experience in financing agriculture, agribusiness and real estate corporate sectors in emerging markets. He has led and managed with his teams more than 600 transactions with 7 billion euros of financing, and conducted key transactions with corporates, banks, investment funds, Governments and public institutions in more than 40 countries.
Gilles Mettetal holds a post graduate degree of L'Ecole Nationale Supérieure Agronomique de Montpellier. He also holds an MSc degree in Biology and Environment.