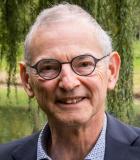 Team Leader, Urban Land & Water Management
Profile / Bio:
Frans van de Ven is the Team Leader of Urban Land & Water Management at Deltares, the Netherlands institute for delta technology. He is an Associate Professor in Urban Water Management at the Faculty of Civil Engineering and Geosciences of Delft University of Technology.
Together with his colleagues in both organizations, he is working on attractive, flood robust and climate-resilient, subsidence-free cities, while aiming at reducing the environmental footprint of urban systems. This includes research into: (1) improved concepts for resilient urban land & water management; (2) better methods for engineering urban water systems and for control of water quantity, water quality, demands and supply; and (3) urban planning and design support tools to implement these improved concepts and methods in urban planning, design, operation, and management.
His major fields of expertise include:
Sustainable urban land & water management systems; making the most out of urban surface water, groundwater, stormwater runoff, parks and green infrastructure;
Effectiveness, planning, and design of blue-green infrastructure;
Climate resilience of urban areas; adaptation strategies and urban planning support systems; improving urban land & water system modeling for adaptation planning;
Urban water, green and public health. Controlling pathogenic organisms and vectors; heat stress control and blue-green infrastructure;
Thermal energy from water; surface water as solar heat collector and as evaporative cooler; and
Transition management to realize more sustainable systems of urban land & water management.
-----
Frans van de Ven是荷兰三角洲技术研究所Deltares的城市土地和水资源管理团队负责人,他还是代尔夫特理工大学土木工程 和地球科学学院城市水资源管理副教授。
他与同事一起致力于建设具有吸引力,抗洪且气候适应性强,无塌陷的城市,同时致力于减少城市系统的环境足迹,包括研究(1)改善弹性城市土地和水资源管理的概念,(2)更好的城市水系统设计方法和水量、水质、水需求和供应的控制方法,以 及(3)在城市规划、设计、运营和管理中实施这些改进的概念和方法的城市规划和设计支持工具。
-----
Г-н Франц ван де Вен является руководителем проекта по управлению земельными и водными ресурсами городов в рамках института Дельтарес (Deltares), института Нидерландов по развитию «дельтатехнологий»; является доцентом/адъюнкт-профессором в области управления городской водопроводной водой факультета гражданского строительства и наук о земле Делфтского технического университета.
Совместно с коллегами из обоих организаций работает над развитием привлекательных, устойчивых к сильным наводнениям и изменению климата, свободных от осадки городов, при этом его деятельность нацелена на сокращение негативного воздействия урбанистических систем на экологию. Такая деятельность подразумевает проведение исследований в следующих областях: (1) усовершенствование концепций управления устойчивыми к изменению климата городскими земельными и водными ресурсами, (2) оптимальные методы строительства систем городского водопровода и контроля над количеством и качеством воды, потребностью в воде и водоснабжением; (3) инструменты планирования городов и поддержки дизайна в целях внедрения усовершенствованных концепций и методов городского планирования, проектирования, развития и управления.
Основные области знаний:
Устойчивые системы управления городскими земельными и водными ресурсами; использование поверхностных вод, подземных
вод, ливневых стоков, парков городов, «зеленая» инфраструктура;
Эффективность, планирование и проектирование «сине-зеленой» инфраструктуры
Устойчивость городских территорий к изменению климата; стратегии адаптации и системы поддержки городского планирования;
усовершенствование системы городских земельных и водных ресурсов, моделирование процесса планирования в части
адаптации к изменению климата;
Городское водоснабжение, озеленение и здравоохранение. Контроль патогенных организмов и переносчиков инфекции; контроль
теплового стресса и «сине-зеленая» инфраструктура;
Термальная энергия воды; поверхностная вода как коллектор солнечного тепла и испарительный охладитель;
Управление переходом к реализации более устойчивых систем управления городскими земельными и водными ресурсами.