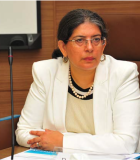 , UNESCO Asia-Pacific Regional Bureau for Education
Profile / Bio:
Faryal Khan, Ed. D., is the Programme Specialist for Education at the UNESCO Regional Bureau for Asia and the Pacific and leads the Quality team, focusing on NEQMAP, Global Citizenship Education, and Education for Sustainable Development amongst other areas.
Dr. Khan earned her doctorate in Educational Administration, Planning, and Social Policy (concentration: International Education) from Harvard University (2005). She has two masters' degrees in Education: from the University of the Punjab, Lahore, Pakistan (1989), and Harvard's Graduate School of Education (1995).
Previously, she has served at UNESCO Kingston Office covering 20 Small Islands Development States in the English and Dutch speaking Caribbean; UNESCO Doha Office, covering the Arab States in the Gulf and Yemen; and UNESCO New York Office, liaison to UN Secretariat. At UNESCO HQs, she has provided technical advice to Member States globally in Educational Policy, Planning, Capacity Development and Evaluation. At the Division for Basic to Higher Education and Learning (Paris HQs) she provided technical advice to develop the Education Quality Diagnostics/Analysis and Monitoring Framework, and utilized research to inform policy, thus strengthening UNESCO's comparative advantage as a leading source of knowledge and expertise on education policy and reform. While at UNESCO HQs (1995-2011), amongst other responsibilities, she coordinated the ANQAHE and APQN networks for Quality Assurance in Higher Education in the Arab States and the Asia Pacific regions within the framework of the UNESCO/World Bank GIQAC initiative.
Dr. Khan is best known for her research in educational policy and planning, specifically, local governance of Education in Asia, Africa, the Arab States, and Latin America and the Caribbean. Her research interests focus on improving learning outcomes, educational assessments, and global citizenship education, as well as aid effectiveness in education, and educational financing.. For example, utilizing research to inform education policy, she conducted an extensive policy evaluation study to examine who participates in school councils and how in rural Punjab, Pakistan. She has also conducted extensive research on education in developing countries including Bangladesh, Chile, Egypt, Nigeria, Pakistan, and Thailand amongst other countries.