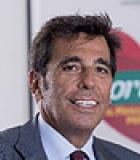 Profile / Bio:
Born in Rome on August 28, 1959. Graduated in Jurisprudence with economic address at the University La Sapienza of Rome.
Economist, expert in economic and territorial problems development, he has developed a consistent administrative and managerial experience.
Since 2014 he is the Managing Director of CAR Scpa, the company that built, owns and manages the Centro Agroalimentare Roma, the first Italian structure in the sector. In this capacity he is responsible for the management of the structure and ensures its productive and economic results.
Since March 2015 he is President of ITALMERCATI - Rete di Imprese, to which the main Italian Agri-Food Centers belong, the first Italian experience of development of the system of large agri-food markets.
Since 2015 he is a member of the Board of Directors of WUWM (World Union of Wholesale Markets).
Since 2016 he is Board Member of CSO - Italy, an organization for the promotion and international development of Italian fruit and vegetables in the world.
Since 2020 he is European Group Leader of WUWM (World Union of Wholesale Markets).
Since 2020 he is Professor of Food Economics at the University of Rome 3.
He has chaired important Bodies and Companies in the agri-food sector, and he has been and still is a member of numerous Working Groups and Commissions in the field of agri-food.