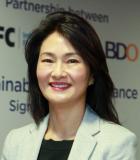 Chief Advisor, Head of Sustainable Energy Finance
Profile / Bio:
Ms. Eunjoo Park-Minc is the Chief Advisor and concurrently Head of Sustainable Energy Finance (SEF), and Head of Multilaterals & Export Credit Agencies (ECAs) Desk at Banco de Oro (BDO) in Manila, Philippines, since 2012. In partnership with the International Finance Corporation (IFC), she manages BDO's US$ 702 million renewable energy and energy efficiency portfolio that contributes to energy market transformation through the mobilization of private sector investment in sustainable energy projects to reduce greenhouse gas (GHG) emissions, improve energy security and promote economic development in the Philippines. BDO is the leader in financing the renewable energy sector in the Philippines.
Ms. Park-Minc is a US national born in the Republic of Korea and holds an MBA in International Business and Finance from the George Washington University and a BA in Linguistics from Seoul National University. She is a Green Finance Specialist and Certified Trainer from the Renewable Energy Academy (RENAC) in Berlin, Germany. She was the scholarship awardee in Women in Renewable Energy Forum in Singapore by Asia-Pacific Economic Cooperation (APEC).