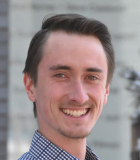 , Rocky Mountain Institute
Profile / Bio:
Ethan is an Associate in the Office of the Chief Scientist (OCS) where he directly supports RMI's Co-founder and Chief Scientist, Amory Lovins, and the OCS team with analysis, research, collaboration, and travel. Ethan is currently engaged in a number of RMI efforts to promote OCS collaboration with RMI's broader programs. He's worked as an engineer in robotics and solar, and he also spent a year traveling the US as a grassroots environmental organizer.
Ethan has a passion for understanding how systems work, solving problems, bridging cultures, building relationships, and bringing people together. He also enjoys deep technical work, project management, and strategic thinking.