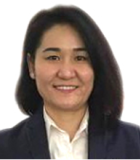 , National University of Mongolia
Profile / Bio:
Enkhtsetseg Byambaa has been working as a Professor at the National University of Mongolia (NUM) since 1998. She has a Bachelor degree in Demography from NUM, post-graduate diploma in "Population and Development" from the Center for Development Studies, Trivandrum, India, MA in Economics from NUM and PhD in Demography from Charles University, Czech Republic. She has also participated in several short-term training courses organized by UN organizations, ADB, East West Center, Honolulu, Hawaii and Brown University, Rhode Island, USA.
Besides teaching, she has been leading, supervising a number of qualitative and quantitative studies, engaging in analysis, reporting to and advising the government of Mongolia. Her main research areas are Population and Development, Fertility, Social Protection issues including Poverty, Disability and Elderly.