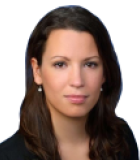 Head, Digital Strategy and Digital Asia Pacific
, BNP Paribas Asset Management
Profile / Bio:
Emmanuelle joined BNP Paribas Asset Management (BNPP AM) in 2011 as Investment Specialist in the European Equities Team in Paris. She moved to Hong-Kong in 2012 to work as Investment Specialist specializing on China RMB capabilities and Indonesian equities for international investors.
Passionate about new technologies, Emmanuelle joined the global transformation group in 2017, where from Hong-Kong, she led the digital transformation of BNPP AM globally and in APAC. She designed the global digital strategy and is since leading the implementation of the Augmented Investments Programme. As part of her role, Emmanuelle is looking at increasing the usage of Artificial Intelligence, Blockchain and other technologies in our operating model and investment processes. Since 2018, Emmanuelle is leading BNPP AM's efforts on digital assets and blockchain.
She is working directly with BNPP AM's global chief digital officer, revamping BNPP AM's digital strategy and looking at new business models in Europe and in Asia. Emmanuelle continues to lead multiple projects internally on tokenization and on the impact of blockchain. She is also a co-chair of the Blockchain committee of the FinTech Association of Hong-Kong.
Prior to BNPP AM, she was Internal Auditor at Amundi Asset Management.
Emmanuelle holds an MSc in Financial Management and a Diplome des Grandes Ecoles with a major in Financial Analysis from EDHEC Business School in France.