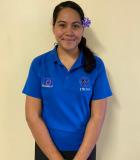 , Samoa Independent Water Schemes Association (IWSA)
Profile / Bio:
Emma plays a crucial role in our European Union-funded project "Support to better improve the capacity of communities to better manage water resources".
Emma is responsible for the development of drinking water safety plans for the communities under the IWSA. She works closely with the communities to capture the current condition of their water supply and together with the engineer determine how to mitigate the risks the communities continue to face. The role demands intense field research as much as work in the office which she does so effortlessly. She also manages the IWSA asset management system. This holds each community's network information which they can access when needed.
Emma holds a Master of Science degree in Tropical Conservation Biology and Environmental Science from the University of Hawaii. She has written three publications.