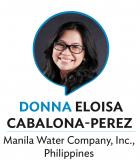 Wastewater Operations Head
, Manila Water Company, Inc., Philippines
Profile / Bio:
Donna is the Wastewater Operations Head in Manila Water, where she leads the company's wastewater management and services that includes the collection of sewage and septage from households and businesses to conveyance via sewer network system, to full treatment in sewage treatment plants.
As part of her current role, Donna also implements strategic plans to ensure the efficient and effective operations and maintenance of wastewater facilities aligned with regulatory requirements, and meeting the service performance standards embedded in Manila Water's business plans. Under her leadership, the group is expanding its sewerage and sanitation services to the East Zone of Metro Manila. Together with the team, she is committed to constantly seeking ways to improve operational reliability, efficiency, and compliance with regulatory requirements of all wastewater facilities by exploring new technologies, developing standards, and providing sustainable solutions.
Donna has over 15 years of experience in wastewater treatment and operations, supported by her background in chemical engineering. Prior to joining Manila Water, she was a process engineer in a wastewater treatment plant, treating various chemical compounds stemming from the manufacture of microchips.