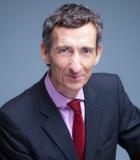 Principal Procurement Specialist
Profile / Bio:
Didier Guynet has over 20 years of experience in procurement and contract management for large-scale construction/infrastructure projects (contract preparation, contract negotiation, claim management).
He is also a FIDIC accredited Dispute Adjudicator - FIDIC accredited Trainer. He is at ease in multi-cultural environments and positions himself at the crossroads of commercial, technical, and contractual/legal aspects of business and I strive to shift problems into workable solutions.