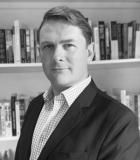 Profile / Bio:
Before joining Themis, Dickon held a number of senior positions in banking including as the COO and then CEO of First Abu Dhabi Bank in the UK (SMF 22 & 19). He has over 18 years of banking experience with First Abu Dhabi Bank, Abu Dhabi Finance, Barclays and Accenture, and has worked and travelled extensively in the Middle East (including spending over a decade in the UAE), as well as the UK, Europe & Americas.
Dickon is the Finance Chair of the UK Modern Slavery Training Delivery Group (a national committee reporting jointly to the Home Office and Department for Business, Energy and Industrial Strategy, with close links to the National Crime Agency).
He is also a member of Transparency International, holds an ICA International Diploma in Anti-Money Laundering and an MA (Hons) from the University of Edinburgh.