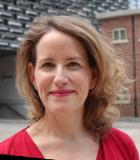 Regional Director, Executive Education, Asia-Pacific
Profile / Bio:
Diana Wu David has broad experience across corporate and venture capital, management consulting, and startups in and outside of the corporate structure. She sits on the boards of DaVinci Labs, NEST.vc and the American Chamber of Commerce in Hong Kong and is an angel investor in media, education and consumer startups. She also founded and leads the Financial Times Executive Education initiatives in Asia-Pacific, including the flagship Financial Times Non-Executive Directors Diploma.
She has an MBA from Columbia Business School and began her career as an assistant to Dr. Henry Kissinger. Awarded a Luce Scholarship to come to Asia in 1999, she was chosen in 2006 to be an Asia Society Asia 21 Young Leader and has been passionate about bridging Asia and the US.