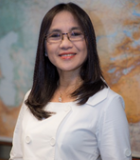 Senior Energy Specialist, Energy Division, Pacific Department
Profile / Bio:
Dr. Tiangco's 25-year work experience includes over 8 years in ADB leading clean energy projects, such as solar and battery storage systems in the Cook Islands, Tonga, Tuvalu and Kiribati, solar in Uzbekistan, and Afghanistan, and energy efficiency in Kazakhstan and Pakistan. Cindy spearheaded the regional floating solar initiative to build pilot plants in Afghanistan, Azerbaijan and Kyrgyz Republic, and Afghanistan's second solar grant to build solar rooftop and mini-grids. She is currently exploring the same initiatives in the Pacific region.
Before ADB, Cindy was a consultant to the ADB, World Bank, AFD, UNDP/GEF and the Philippine Climate Change Commission. Her project involvement includes solar PV and battery storage systems, solar thermal, wind, hydro, geothermal, efficient lighting, landfill gas to power, biodiesel, biomass, and other climate change mitigation projects. Cindy holds a PhD in Mechanical Engineering, Master of Engineering major in renewable energy sources, and a Bachelor of Science in Electrical Engineering (cum laude).