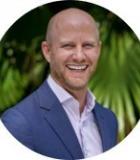 Profile / Bio:
Christiaan Kaptein is a Partner and member of the investment committee at Integra Partners.
Prior to Integra Partners (formerly known as Dymon Asia Ventures), Christiaan was a co-founder of a venture capital fund focused on early stage technology investments in Asia. Selected investments include 2C2P, DemystData, Lufax, and Exchange Corporation Limited. Prior to that, he spent 7 years with the Robeco Group, a global investment group with $255 billion in assets under management, where Christiaan was the first employee in Greater China and helped set up the Group's regional venture arm in Asia. Chris holds an MSc degree in Econometrics from Maastricht University, studied at Fudan University in Shanghai and is a CFA charter holder. Christiaan has lived and worked in Taipei,China, Shanghai, People's Republic of China, Hong Kong, China and Singapore since 2004.
On behalf of Integra Partners, Christiaan sits on the boards of Flow, Brankas, Fundnel, Jirnexu (Observer), Sprout (Observer), Advance (Observer) and Neat. Chris is also an advisor to the board of UBX, the digital arm of UnionBank of the Philippines.