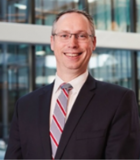 Deputy Chief Executive Officer, Intelligence
Profile / Bio:
Mr. Collett joined AUSTRAC in June 2018. He is responsible for AUSTRAC's intelligence functions, operational engagement, strategic risk assessments, and international operations. 
He is the co-chairman of the regional Financial Intelligence Consultative Group and represents AUSTRAC on the Fintel Alliance's Strategic Advisory Board. He held a range of senior executive positions in the Department of Home Affairs, the Attorney-General's Department, and the Department of Employment, across criminal justice, emergency management, civil justice, and assurance and compliance areas.  
Prior to joining the Australian Public Service, Mr. Collett worked in state government and non-government organizations. He holds a Master of Arts, a bachelor's degree, and a postgraduate diploma in psychology.