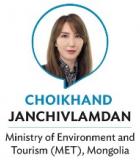 , Ministry of Environment and Tourism of Mongolia
Profile / Bio:
Choikhand is the Project Manager for Managing Soil Pollution through Improved On-Site Sanitation in the Ger Areas of Ulaanbaatar City project, under the Ministry of Environment and Tourism of Mongolia. She has been working for the country's environmental sector for nearly two decades, and her focus has primarily been on biodiversity conservation and climate-related projects.
She joined the Ministry in 2017, and became the project manager for the soil pollution pilot grant project funded by the Japan Fund for Poverty Reduction. This project was implemented in the ger areas of Ulaanbaatar until 2020. Under the project, two types of 1,500 individual on-site sanitation units were installed in the ger areas. The project also addressed gender and environmental concerns of the large urban settlement and established a holistic fecal waste management cycle, based on the local context and needs. The project is seen to have potential for scalability in the future.
Choikhand has a PhD in Geography from the University of Leicester in the United Kingdom.