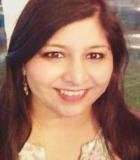 Consul and Illicit Finance Policy Lead (China and Hong Kong SAR) Foreign
, Commonwealth and Development Office
Profile / Bio:
Chinali commenced International Illicit Finance Policy lead role at the British Consulate General in Hong Kong in April 2019.
The role has a specific focus on policy and strategy - enhancing diplomatic engagement, capability and capacity building in close coordination with HMG, local and international partners to tackle illicit finance by disrupting high-harm transnational organised crime groups and addressing the factors that drive, enable and perpetuate their activity.
Chinali has thirteen years of Law Enforcement experience ranging from Investigations, Intelligence, complex Change Programmes and recently as Chief of Staff to UK NCA Director Threats. Chinali maintained excellent relationships with key influencers, HMG partners, wider civil society and international partners to ensure a coordinated and responsive approach to issues which needed addressing at national level, ensuring that public protection messages are aligned across agencies and have maximum impact.