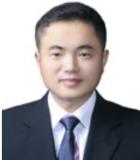 , Regional Intelligence Liaison Office, World Customs Organization (WCO)
Profile / Bio:
Cheon-Jeong, Park is Head of the Regional Intelligence Liaison Office for Asia and the Pacific (RILO AP), and also appointed as the Director of International Investigation of Korea Customs Service (KCS). He began his career in 1991 with the foreign port surveillance office at Gunsan Customs.
He has broad experience in customs border surveillance as well as investigation and was selected for Head of Daesan Customs in 2015. In the following year, he became Deputy Director of Investigation Planning Division of KCS.
He also served as Deputy Director of Customs Border Surveillance Division of KCS in 2017 and has contributed to the development of customs administration of Korea. Prior to taking over the current position, he was Director of New Port and Surveillance Division of Busan Regional Customs, in 2020