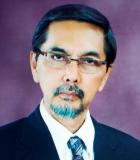 , PT Gerbang Multindo Nusantara
Profile / Bio:
Mr. Chayun Budiono is a Managing Director of PT Gerbang Multindo Nusantara, a privately owned Indonesian green energy system integrator. He obtained his master degree in Renewable Energy System, with emphasis on Economics of Energy Supply System from the University of Oldenburg (Germany). He provides lectures on related energy topics at the "Sepuluh Nopember" Institute of Technology (ITS) in Surabaya, Indonesia.
He has been active in renewable energy development activities since his graduation in 1975 when he started his involvement with solar collectors, solar desalination, domestic solar water heating, and solar dryer. Since then, he devoted his activities in renewable energy developments and energy conservation activities. He has been provided his expertise to a broad range of services in energy planning and auditing, cogeneration in industrial process, and renewable energy development (RED). He focuses to the development that closely related with rural and remote applications, off-grid systems and sustainable development, such as run-off the river micro-hydro plants, solar drying system for agriculture post-harvest processing, stand-alone PV system for rural electrification and water pumping, and PV-Diesel Hybrid system.