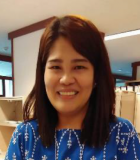 Senior Technical Expert - Natural Capital (Consultant)
Profile / Bio:
Charina Cabrido is an environment professional with 15 years of combined experience in mainstreaming biodiversity, transport, environment and natural resources initiatives at policy, programming and implementation levels including resource mobilization and expansion of partnerships. Extensive experience in cross-cutting knowledge work to capture and disseminate findings and lessons from projects.
As Senior Technical Expert-Natural Capital, she is closely involved in designing interventions that strengthen eco-resilience by mainstreaming nature-based approaches and green infrastructure planning in project designs including combatting illegal wildlife trade. She previously worked with Clean Air Asia, UNDP, and UNISDR on road safety, air pollution and integrated research on disaster risk and is the author of the Philippine Biodiversity Strategic Action Plan 2015-2028, the country's commitment to the UN's Convention on Biological Diversity.
She has a master's degree in Environmental Management from the University of San Francisco, USA and a postgraduate degree in Integrated Water Management from Saxion University of Applied Sciences, Netherlands.