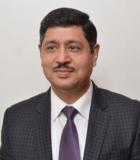 Profile / Bio:
Mr. Chandra Mohan Arora is currently designated as Procurement Specialist at ADB's Procurement, Portfolio, and Financial Management Department (PPFD). He is responsible to provide procurement advice and support to developing member countries in the pacific region.
Mr. Chandra is an experienced civil engineer, project manager, and procurement specialist and carries 25 years of professional work experience with a track record of achievements in both private and public sector organizations. He has strong interests in procurement and contract management of high-value contracts in large infrastructure projects; project management; and portfolio management.
His qualifications include 'Bachelor's Degree in Civil Engineering from the Indian Institute of Technology (India) and a Master's Degree in Business Administration (MBA) with a specialization in Finance.