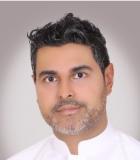 Head of APAC for Global Government Partnerships
Profile / Bio:
Chad Pasha is currently Head of APAC for Global Government Partnerships at Coursera where he works with senior government leaders to design and launch national skills transformation programs in partnership with industry and academia.  
Prior to joining Coursera, Chad headed the Growth Capital investment team, setup by Prime Minister David Cameron in Number 10, to structure large scale investment into the UK.  He was also a Data Scientist with the UK Cabinet Office, embedding the use of machine learning in government digital services and digital transformation across central departments.  Chad has worked with sovereign wealth funds globally including Mubadala, where he set-up the Abu Dhabi Advanced Technology Intellectual Property Office and Khazanah Nasional, where he established a new city in southern Malaysia.  He also launched the world's largest education transformation project in Pakistan, funded by the World Bank, aimed at enrolling millions of out of school children.