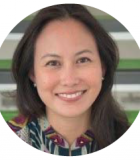 Founder and Managing Director
Profile / Bio:
Celina Agaton is the Filipino-Canadian Founder and Managing Director of MapPH. She helps regenerate supply chains in Indigenous, food, and creative economies and conflict areas to support governance, gender, and MSMEs. She co-developed the Open Knowledge Kit Regeneration Program to create local and remote work with free and open source geospatial tools and cross-sector coordination to address knowledge stewardship, gender gaps, and climate change.
She leads projects for World Bank, Asian Development Bank, and APEC-Canada Growing Business Partnership. She is also the Executive Director of the Creative Economy Council of the Philippines and Co-Chair of Open Source GEO Oceania Outreach and Communications.
She was the Community Engagement Director and Strategist for Open Cities at the Martin Prosperity Institute, and the Digital Director and Policy Advisor to the Deputy Mayor of Toronto's Mayoral campaign. Celina graduated with a BSc. in Psychology, Equity Studies, and Photography from the University of Toronto. She grew up in Jakarta, Manila, and Toronto and is currently based in Indonesia.