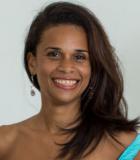 Co-Founder and Executive Director
Profile / Bio:
Cécile has been working and consulting in the field of business and project development, start-up acceleration and access to financing in the sectors of clean energy, adaptation and mitigation, WASH and agriculture for more than 12 years and is no stranger to Cambodia and the region. She recently served as PFAN coordinator in Cambodia, where she worked to bring investment into clean energy projects and served as a mentor to several companies working with PFAN to review their business plans and strategy and help them reach financial closure. She served also as Clean Power Asia Solar Policy Expert, where she worked on a Solar policy brief to increase the uptake of grid solar in Cambodia. Other consulting assignments have ranged from access to water and energy efficiency to climate change, rural development, and focus on small and medium enterprise growth. She has worked in Southeast Asia as well as Africa, the Pacific, and the Caribbean.
She studied in both France and Brasil and holds a Master's Degree in Engineering Sciences from both Ecole Centrale Lyon, France and Pontifica Universidade Catolica, Brasil.