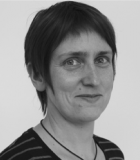 Head of Research Unit, International Energy Transitions, Future Energy and Industry Systems Division
Profile / Bio:
Carmen graduated from the University of Trier and holds a diploma in physical geography. She is also a Frankfurt School Certified Expert in Climate & Renewable Energy Finance and was McCloy Fellow in Environmental Policy of the American Council on Germany. Since its inception in 2004, Carmen coordinates the project "WISIONS initiative" (www.wisions.net), which is promoting sustainable energy solutions in developing regions and conducting research on sound implementation models. The initiative's approach is need-oriented and aims to empower local practitioners by supporting the demonstration of sound solutions (in more than 120 projects in 40 countries to date), ensuring South-South knowledge exchange and promoting regional practitioner networks, like HPNET or RedBioLAC.
Aside from the active supervision of energy projects, Carmen is especially interested in the meta-analysis and evaluation of most influencing factors as well as the analysis of impacts. Her research also focuses on the city level and develops, in close cooperation with regional stakeholders, sustainable pathways towards low carbon development.