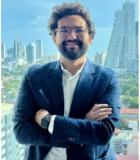 Economist, Global Information and Early Warning System
Profile / Bio:
Works as an Economist at the Global Information and Early Warning System of FAO since 2018. He monitors food markets in West Africa, providing analyses that reflect the trends of food security at the national and subregional levels. He also participates in flagship publications such as the Global Report of Food Crisis and FAO/WFPs Hunger Hotspots Analysis.
Prior to this role, for over 6 years Carlos worked as a development professional for the academia and public and private sectors, in social and economic programs, and in direct contact with ethnic, rural, and urban communities in Colombia.