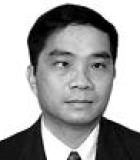 Principal Energy Economist
Profile / Bio:
Mr. Bui has been with ADB since 2005. He is responsible for developing and implementing programs for sustainable energy development in ADB member countries in Southeast Asia. His work covers (i) processing and implementing power investment projects and technical assistance programs to promote energy access for all, sustainable energy development; (ii) facilitating GM's regional power interconnection and trade. Mr. Bui also serves in the ADB Clean Energy Forum, which promotes knowledge sharing in energy transition and clean energy development in member countries.
Prior to joining ADB, Mr. Bui worked for 6 years as an Energy System Analyst and Planner in the International Atomic Energy Agency, where he managed a number of regional programs for Asia and Africa, that built capacity in the area of energy-environment sustainable development focusing on mitigating greenhouse gas emissions; conducted energy-environment planning and studies and training on the use of computer models for energy-environment planning.
Mr. Bui holds a Ph.D. specializing in Economic Valuation of Energy Externalities from the Asian Institute of Technology, Bangkok Thailand (1999) and a master's degree in Electrical Engineering from the Moscow Power Engineering Institute, Moscow, Russia (1983).