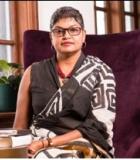 Board of Diversity Collective Lanka
Profile / Bio:
Bani's professional career in Human resources spans across a range of industries over the past 16+ years. The last 4  years have been in Diversity, Equity and Inclusion at London Stock Exchange Group Sri Lanka.
She is on the Board of Diversity Collective Lanka; an association driving inclusive thinking and actions across education and students, corporates and entrepreneurship. She also heads the Capacity Forum at SLASSCOM which is an industry chamber focused on building the talent pipeline for IT and BPM industry in Sri Lanka with mid term and long term solutions. Representing SLASSCOM Bani is on the ICT Skills Council Board as well working towards ensuring all industry talent solutions are accessible to other associations and talent.
She is transitioning towards entrepreneurship focused on doing HR and DEI consultancy and launching an agriculture project to learn a new skill and introduce simple living. She is a single mom of a teenage boy.