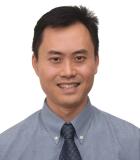 Senior Water Resources Specialist
Profile / Bio:
Shion is a Senior Water Resources Specialist currently working with the Manila-based Asian Development Bank's (ADB) East Asia Department responsible for leading design, processing and implementing of loan projects and technical assistance programs in the People's Republic of China and Mongolia. He joined ADB in 2015 as the urban and water sector focal point in ADB's Independent Evaluation Department responsible for water sector project and country program evaluations in South Asia, with a focus on Sri Lanka's water and sanitation sector.
Prior to joining ADB, he worked on a range of water infrastructure policy and strategic planning roles in the Queensland Government and in consultancy, including most recently leading the Asset Efficiency and Optimization program at Seqwater, responsible for strategic asset management planning and policy development for a range of bulk water supply infrastructure in south east Queensland. He has a PhD in Resource Economics from Central Queensland University, and holds qualifications in Civil Engineering and Business Management from the University of Queensland.