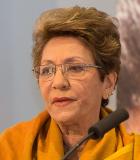 , National Assembly of Pakistan
Profile / Bio:
Dr. Attiya Inayatullah holds a Ph.D. in Demographics and has had a life-long association with the Family Planning Association of Pakistan.
Former Chairperson of the Executive Board of UNESCO, she has acquired international recognition in the fields of international relations, human rights, gender equality and social development at both the global level and in Pakistan. As a member of the first International Bioethics Committee of UNESCO, she contributed to the Universal Declaration on Human Genome and Human Rights.
She was honoured with the Ceres Medal – the only UN award for women – and has also received the highest civil award in Pakistan for public service.
Dr. Inayatullah served as an adviser on Population Welfare to President General Muhammad Zia-ul-Haq in the early 1980s. In the elections of 1985, she was elected a member of the National Assembly. She served in the cabinet of Prime Minister Muhammad Khan Junejo as a Minister of State for Population Welfare. In 1988, she was again elected a member of the National Assembly. Following the military takeover by General Pervez Musharraf in 1999, she was one of four civilian members of the National Security Council of Pakistan in 1999 and 2000, when the Council was Pakistan's supreme governing body. She has then served as Minister of Women's Development, Social Welfare and Special Education.
Dr. Inayatullah is among the most senior parliamentarians with a record for initiating a range of women and child related legislations, which include the Domestic Violence Bill, Acid Throwing and Burn Victims Protection Bill, Corporal Punishment Prohibition Bill, Reproductive Health and Rights Bill, Marriage Act, Restraint Act, and the Child Rights Charter Bill.