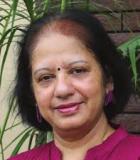 Environmental Expert and a Former Head
, Environmental Impact Assessment Cell at Wildlife Institute of India
Profile / Bio:
Dr. AshaRajvanshi is an Environmental expert and a former head of the Environmental Impact Assessment Cell at Wildlife Institute of India. She has over three decades of professional standing as a teacher, trainer, researcher and impact assessment practitioner. She has played the lead role in developing, testing and encouraging mainstreaming tools for biodiversity in impact assessment and in building capacity of a wide range of practitioners - professional foresters; civil servants; environmental auditors; and engineers in the road, railway, mining and energy sectors in the field of impact assessment. Dr. Rajvanshi has presented training courses in USA, Norway, Korea, Australia, Ghana, Switzerland, Mexico, Portugal, Canada, Italy and Saudi Arabia. She has provided professional support to many international organizations in their endeavors of promoting responsible growth.
These organisations include the UNEP; Convention on Biological Diversity; European Union; The World Bank; IUCN; International Association for Impact Assessment (IAIA); GIZ; Global Biodiversity Information Facility (GBIF); Environmental and Social Safeguards Unit of the Inter-American Development Bank, Washington DC; Netherlands Commission for Environmental Assessment; Saudi Aramco; Canadian Environmental Collaborative; Wetlands International; Environmental Protection Agency, Ghana, Wetlands International; Asian Development Bank. Dr. Rajvanshi has also contributed to the two major global initiatives- The Millennium Ecosystem Assessment (2004) in the area of mainstreaming of biodiversity issues in Environmental Impact Assessment for Global Assessment Responses Working Group and to the Inter-governmental Science-Policy Platform on Biodiversity and Ecosystem Services (IPBES) led Asia-Pacific Regional Assessment during 2014-2017.
She has served as a member of the Expert Appraisal Committees of the Ministry of Environment, Forest and Climate Change, Government of India for over two decades and on the national committee for developing accreditation system for EIA consultants. She is a member of the International Association for Impact Assessment (IAIA) and has co-chaired its Biodiversity and Ecology Section. Dr. Asha Rajvanshi has been chosen for the Lifetime Achievement Award of the IAIA for 2019 for her sustained and significant contributions to impact assessment.