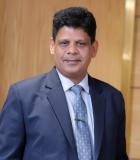 Profile / Bio:
Arun Kumar is currently the group CEO of Kreate Group, an integrated energy solution provider in India. Their services include licensed power trading, supply of solar, wind and hydropower to open access customers and discoms, as well as LED manufacturing. The company also provides automation and energy efficiency solutions through its Information Technology & technical advisory divisions. Arun also has expertise in developing smart energy platform for real-time energy supply and demand management.
Arun has to his credit an experience of 7 years in Investment Banking and Equity Research as Director - Power Utilities at HSBC, covering power utilities across India and ASEAN markets, servicing FIIs (Institutional Investors) across the world. His prior experience includes 12 years in Management Consulting, Power and Infrastructure domain at KPMG, CRISIL and PA Consulting.
He has successfully handled multiple critical assignments including advisory to World Bank, ADB, USAID, DFID, Ministry of Power, MNRE, CERC, SERCs Central PSUs like NTPC and various state utilities as well as private gencos.