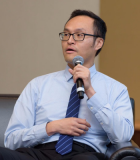 Compathnion Tecnhology Ltd.
Profile / Bio:
Mr. Arthur Chan, CEO & Director of Compathnion Tecnhology Ltd., an award-winning company specializes in innovative location-based services and research development. One major product One of its major innovation is the smart indoor positioning, Wherami, using a fusion of signals, such as Wi-Fi, geomagnetic and bluetooth signals.
Moreover, Mr. Chan is an entrepreneur, a passionate believer of data technology and an enthusiastic advocate of commercial application development with more than 10 years of working experience with global companies in Hong Kong, China on mobile commerce, e-commerce and big data area.