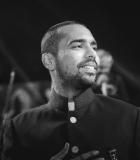 Profile / Bio:
Arjun P. Gupta is on a mission to eliminate energy waste. He started Smart Joules in 2014 to make energy savings simple, substantial and profitable for large businesses and through "energy efficiency as-a-service" business models and digital technology innovations. Smart Joules has since delivered 35% savings on average across it's client portfolio, summing to more than 90,000 tons of avoided carbon emissions and 1.3 million electrified Indian households. The company has won more than 20 national and international awards for innovations and results in energy conservation, and has quickly emerged as the top energy efficiency services provider to commercial buildings in India.
Beyond Smart Joules, Arjun is Co-Founder of The Sustainability Mafia – a non-profit organization that enables sustainability leaders to multiply their impact through goal-oriented collaborations and has a vision to create a 100 climate unicorns in India by 2030. He also serves on the Executive Council of the leading non-profit organization focusing on energy efficiency in India – the Alliance for an Energy Efficient Economy (AEEE). 
Arjun has been recognized as the Economic Times Young Leader by India's top CEOs, an Echoing Green Climate Fellow, Young Entrepreneur of the Year by Business Standard, Climate Strategies Accelerator Fellow by Packard Foundation, and Young Disrupter by UNYCC and Champion of Change by the Indian Prime Minister's Office. He got his Master's degree from the Massachusetts Institute of Technology, and graduated from the University of California – Berkeley with Bachelor's degrees in Civil & Environmental Engineering and Economics. Fun fact – Arjun wrote, directed, produced and sang and a rap song titled "The Climate Fight" for TEDx about climate entrepreneurship in India.