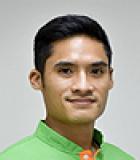 Business Development Director
, Talaad Thai Agro Exchange Co. Ltd.
Profile / Bio:
Tod oversees the Business Development unit at Thai Agro Exchange Co. Ltd (Talaad Thai) operator of Thailand's leading agricultural wholesale market. He graduated from Curtin University (Singapore) with a Bachelor of Commerce degree in Finance and Marketing in 2016. He spent 3 years working in Singapore as an investment banking analyst, gaining exposure in venture capital and private equity deals across ASEAN.
He joined the Talaad Thai team in late-2019 and is responsible for the development of the market's product sourcing and product distribution channels. This includes working closely with small-holder famers to support, develop, and enable the grower base in key focus areas to elevate their production capabilities regarding food safety products (GAP/PGS/Organic Certifications), product grading, quality & standardization. He also oversees product outflow distribution development and technology/innovation initiatives to enable Talaad Thai play a role in increasing efficiency across the food supply-chain domestically and regionally.