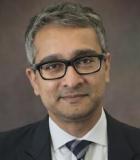 Profile / Bio:
Anup Malani is the Lee and Brena Freeman Professor at the University of Chicago Law School and a Professor at the University of Chicago Pritzker School of Medicine. He is also a Research Associate at the National Bureau of Economic Research in Boston and an editor at the Journal of Law and Economics.
Malani is the co-founder and Faculty Director of the International Innovation Corps, a social service program that sends teams of University of Chicago and foreign university graduates to work on innovative development projects with government officials in India and the United States. 
He has a PhD in economics and a JD, both from University of Chicago. He clerked for Judge Stephen Williams on the US Court of Appeals for District of Columbia and Justice Sandra Day O'Connor on the US Supreme Court.
Malani conducts research in law and economics, health economics and development economics. He sits on the Asian Development Bank's High-Level Southeast Asia Economic Panel on post-pandemic recovery and the World Economic Forum's Regional Action Group for South Asia on COVID-19 response and recovery.  He is an investigator on COVID-19 seroprevalence studies in Mumbai and in the state of Karnataka in India.  He led a team in developing a real-time model of COVID-19 in India and a method of dynamic control called adaptive control, that won the Emergent Ventures Prize for work on COVID-19 in June 2020.  Malani is also the Principal Investigator on the Indian Health Insurance Experiment, which examines the value of India's national public insurance program.
Malani's research has been published in leading journals in a number of different fields, including the Proceedings of the National Academy of Sciences, the Journal of the American Statistical Association, the Journal of Political Economy, the Journal of Econometrics, the Harvard Law Review, the University of Chicago Law Review, the Archives of Internal Medicine, and the Theoretical Population Biology.