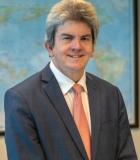 Executive Director, Board of Directors
Profile / Bio:
Anthony Kenneth (Tony) McDonald has been elected as Executive Director of the Asian  Development Bank Board of Directors representing Australia; Azerbaijan; Cambodia; Georgia,  Hong Kong, China; Kiribati; Federated States of Micronesia; Nauru; Palau; Solomon Islands; and  Tuvalu, effective 01 July 2018. 
An Australian National, Mr. McDonald was with the Commonwealth public service for over 27  years, primarily with the Treasury, working on a broad range of policy issues, including:  macroeconomic forecasting and assessment of current economic conditions, international  development, superannuation, taxation and banking and financial markets and budget and fiscal policy. 
As Principal Adviser in Financial System Division, Tony led the team that implemented the Bank  Executive Accountability Regime (BEAR) announced in the 2017-18 Budget.  Tony's international experience includes working with the Coalition Provisional Authority in  Baghdad, Iraq in 2003 and in the Papua New Guinea Treasury as part of the Enhanced  Cooperation Program from 2004 to 2006. 
In 2004 Tony was awarded a Public Service Medal and the US Secretary of Defense Medal for Exceptional Public Service for his service in Iraq. 
Mr. McDonald holds a Master of Economics degree from the Australian National University and a Bachelor of Commerce (Honours) from the University of Western Australia.