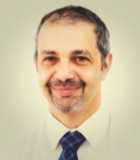 Profile / Bio:
Before joining Cyber Toa, Tony was Head of Engineering and R&D at a sensitive government agency and prior to that the Cyber Lead at Department of Internal Affairs. His technical background and expertise comes from a career in the UK and New Zealand, including leading R&D and software engineering teams at GCHQ, Hewlett Packard and Oracle. He holds a first-class Honours Degree in real-time computing systems and has a first-class Master's Degree in computer forensics - the only Interpol-Accredited forensic programme.​

Tony has designed a post graduate Cyber Security course for the University of the South Pacific. He is also responsible for the first ever Cyber Security Bachelor of Science (BSc Hons) course in New Zealand in conjunction with Victoria University.  ​

Tony co-hosts a regular cybersecurity radio show, and provides vCISO advice to several organisations across New Zealand including DHBs and investment firms. During his time at GCHQ Tony has previously managed high security software development teams, and has specific expertise in code reviews and secure coding practices.​