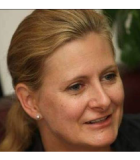 Profile / Bio:
Anthea Webb is the Deputy Regional Director for the Asia and Pacific Region of the United Nations World Food Programme, spanning operations valued at US $3 billion to assist 30 million people.
Previously, Webb was Representative of the UN World Food Programme (WFP) in Indonesia, focused on food security, nutrition and emergency preparedness. She worked with the Special Representative of the UN Secretary-General on hunger, nutrition and climate change from 2011 to 2014. This included collaboration with governments and private sector organizations such as the World Economic Forum, McDonalds, Walmart and Kelloggs. In 2014, Webb assisted the UN's Special Envoy on Ebola shape its response to the outbreak in West Africa.
From 2007 to 2011 she was Director of the World Food Programme in China, where she worked with the government, private sector, civil society and foundations to raise cash plus human and technological resources for hunger and disaster relief projects. She also managed two earth-quake relief operations.
At WFP's headquarters in Rome (1998 to 2007), Webb specialized in building relations with new partners, such as incoming members of the European Union. As a spokesperson she wrote speeches and editorials for the UN Security Council, World Economic Forum (Davos) and Europe-an Parliament in addition to managing media training and advertising campaigns.
Prior to joining WFP Webb worked for the Australian Government's aid programme, the Jesuit Refugee Service and the Society of St Vincent de Paul. Over the past 25 years she has responded to crises in China, Indonesia, Papua New Guinea, Rwanda, Sudan, Vietnam, and the former Yugoslavia.