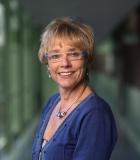 Profile / Bio:
Nijhof has extensive experience in the worlds of both government and business. As the Director-General of Water at the Ministry of Transport, Public Works and Water Management (now Infrastructure and Water Management), she was responsible for water policy in the Netherlands. She then turned her hand to a business career as the CEO of consultancy and engineering firm Tauw. Presently, she is figurehead Top Sector Water & Maritiem and chair of the Netherlands Water Partnership (NWP).
Annemieke Nijhof is looking forward to her start at Deltares: 'Climate change and a healthy living environment are major challenges in the Netherlands, but also worldwide. At present, we are primarily dealing with the effects of drought but the risk of flooding also requires unceasing alertness. The need for knowledge based on science has never been as urgent as it is now. Deltares can make a substantial contribution here from the perspective of water and the subsurface. Its position as a top international institute also offers opportunities to strengthen the international impact.'
Annemieke Nijhof is taking over from Erik Janse, who stepped in for Maarten Smits when he was forced to resign for health reasons.
With effect from 1 October 2020, the Deltares board of directors will consist of Ron Thiemann and Erik Janse alongside Annemieke Nijhof.