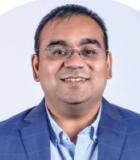 President, Engineering & India Operations
Profile / Bio:
Ankit Maheshwari is the President of Engineering and India Operations at Innovaccer. As a Founding Team Member, he has been at the helm of Innovaccer's Product Engineering vertical and has worked closely
with the organization's clients and clinicians over the years to develop and deploy industry-leading Data Activation Platform at more than 1000 healthcare practices across the globe.
In his cross-functional role, along with leading the entire Product Engineering vertical, Ankit also heads Innovaccer's overall India Operations and brings a unique strategic advantage while maintaining and solidifying the organization.