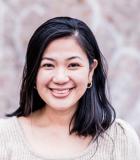 , The University of Manchester
Profile / Bio:
Angela Minas is a social scientist in the field of agriculture and low carbon energy based at the Tyndall Centre for Climate Change Research at The University of Manchester. She applies her interdisciplinary expertise to study social innovation and uses participatory methods and social network research to identify co-development strategies for climate action and low carbon solutions.
She has worked on a number of research and local development projects in Asia and Africa – exploring farmer engagement in bioenergy development, energy access needs in the value chain, social learning in agricultural innovation systems, women and livelihoods, participation in community-based forest management, and climate change adaptation and mitigation.