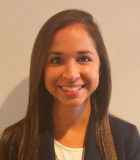 Senior Technology Consultant
Profile / Bio:
Andrea is a Blockchain Product Manager in Deloitte Consulting's Government and Public Services Practice. She works with organizations to design business-focused technology solutions and is specializing in blockchain strategy and solution development.
Ms. Lora has led technology strategy and implementation projects for multiple US government agencies, delivering web, mobile, and data visualization solutions. Her background is primarily focused on product management and human-centered design.
Most recently, she led the development of a blockchain proof of concept to design a real-time settlement mechanism for a day-ahead wholesale power market in the country of Georgia. She also has a passion for fostering blockchain education and thought leadership.
Ms. Lora has a bachelor's degree in Systems Engineering with a concentration in Biomedical Systems from the University of Virginia.